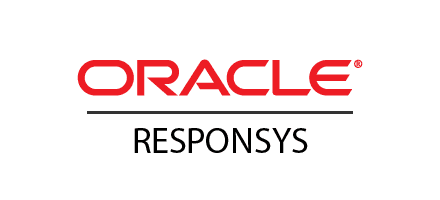 Personalization has become the foundation of the B2B marketing, but it's even more important for the B2C community.
B2C campaigns must be orchestrated for a maximum cross channel capacity: mobile marketing, e-mails, business, and in some cases, bricks and mortar marketing, needs to be holistically addressed to deliver the best customer experience possible.
Oracle Responsys is one of the principal publishers of B2C marketing software. Cloud-Based this solution enables worldwide companies to execute marketing campaigns across multiple digital channels: email, mobile, social networks, ad networks, and more.
WHY SHOULD YOU USE ORACLE RESPONSYS?
The platform Oracle Responsys is extremely robust, the system has unlimited possibilities. It's also intuitive and easy to use after a good training. Here are few key domains available on Oracle Responsys.
Campaigns – here, you create and send target and personalized messages by email or other channels to a targeted public defined by your recipient list or possibly refined by other data sources. In the campaign area you can create, experience, launch and review the results of your campaign.
Programs – here, you create multi-step marketing programs driven by individual behavior at each stage of the customer lifecycle. Programs bundle your audience data, your message content, and all your digital channels.
Files – here, you can save your campaign, your programs, your lists, your forms, your links, etc. Don't forget there are no subfolder option. An appropriate naming rule is advised!
Content – Here, you store campaign-related content such as HTML files, images, text files, and more. In Content, you have the option to create subfolders, but naming rules are always important.
Data – here, you manage your main contact list (s) or create new ones. You also create segment groups, filters, profile extension charts, additional charts, and so on.
Insight – here, you will analyze the results. In Insight, you'll find reports, dashboards, and live views.
Forms – here, you create and manage the forms that you use in campaigns.
A PERFORMING SOLUTION TO GIVE LIFE TO YOUR CLIENT JOURNEY!
As a B2C marketing specialist, you know that a complete marketing platform is essential for long-term success, and you know that a solid marketing automation platform is the foundation for increasing your digital initiatives. Oracle Responsys meets the requirements of functionality, scalability, and reporting so you can make the most of your investment.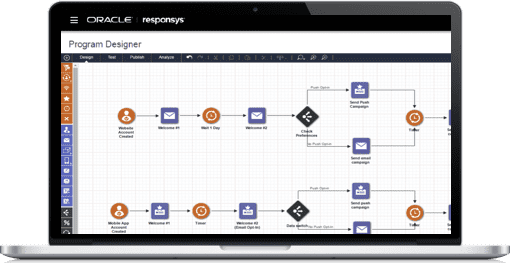 Businesses are using Oracle Responsys to drive more revenue and improve the customer experience every time they interact with their brand, for all promotional, transactional automated campaigns. The combination of Oracle Eloqua and Responsys technologies will enable marketers to provide a tailored solution for B-to-C and B-to-B marketing campaigns.
To learn more about our partner solutions Oracle Responsys and Eloqua contact us or visit our Oracle Marketing Cloud page.
WAISSO SUPPORTS YOU ON RESPONSYS…
Technical integration
Definition of the Marketing & Communication Strategy B to C (scenarii, personas, etc.)
Segmentation strategy (targeting, scoring)
Creation and management of digital content
Complete management of marketing campaigns (configuration, email creation, landing page, form, A / B testing, launch)
Performance management (analysis & reporting, custom dashboard creation)
Definition of recommendations and a personalized action plan