LINKFLUENCE, THE LISTENING TOOL THE MOST POWERFUL
Linkfluence is specialized in listening and analyzing the social web. A true ally of the social watch, the platform has in its client portfolio more than 300 multinationals that analyze their e-notoriety.
Linkfluence develops the Radarly software suite that analyzes in real time the entire social web, from more than 300 million sources including online media, blogs, forums and social networks (Instagram, Twitter, Facebook, Sina Weibo, Wechat, VKontakte, Youtube …).
The Radarly platform provides advanced indicators and metrics for sentiment, named feature extraction and themes, image analysis and logo detection, geolocation, age and gender.
Data is made accessible through interactive dashboards in real time or through an API.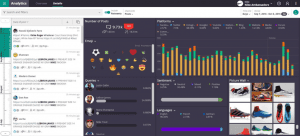 Since 2017 WAISSO is Linkfluence's strategic partner:
Formulation of the listening strategy.
Composition of the search keys and the estimates of captured records
Configuration of queries and dashboards on Radarly
Real-time monitoring and alerting
Reporting and analyzing of listening data